Temas:
1. Echoe  (6:13)
2. Tiny lights (3:11)
3. Red word  (4:28)
4. Too few feet  (5:10)
5. Long shot  (4:25)
6. Charlie  (3:58)
7. At short  (4:45)
8. Peeping Tom  (5:09)
9. The dogfather has entered the lift  (4:36)
Músicos :
- Karl Riss Jacobsen. Vocales.
- Omar Emanuel Johnsen. Guitarras eléctrica y acústica.
- Trond Linden. Guitarras eléctrica y acústica.
- Audun Halland. órgano Rohdes / teclados y sintetizadores.
- Patrick Wilder. Bajo eléctrico / doble bajo / cello.
- Jarle A. Petersen. Batería y percusiones.
Músico invitado :
- Jon Trygve Olsen. ( Saxofones ).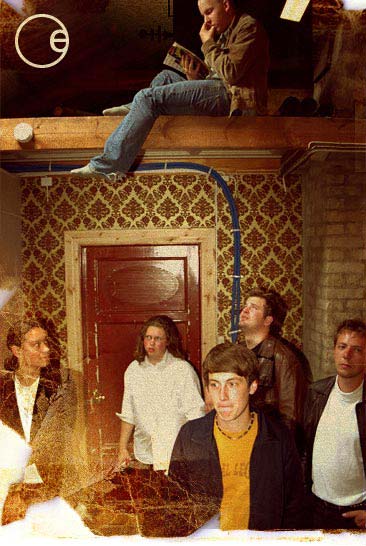 Circles End se constituye en una novísima propuesta del septetrión europeo -
Noruega - cuya música se encuentra orientada básicamente al Progresivo de
fuerte reminisencia setentera, y una combinación de Jazz, Blues y Funky.
Este sexteto logra una música fresca, bien combinada y pulcra técnica sin
llegar a excesos que puedan en un momento dado confundir al escucha.
Indudablemente su música nos muestra buenos fraseos y agradables juegos
armoniosos. Estos noruegos tienen una fuerte influencia cuya directriz está
trazada básicamente en 3 grupos : Yes, Camel y Génesis.
El disco inicia con  'Echoes', el cual es un sendero perfectamente trabajado
hacia los linderos de Yes y Génesis, la guitarra de Johnsen se ve
fuertemente influenciada por Howe, recordando su trabajo en el álbumn
'Fragil', sin embargo; la música es perfectamente ejecutada, sobresaliente
el manejo de la batería por Petersen y al final un discreto sax de Olsen. '
Tiny lights', es una marcada melodía con influencia Funky, sobresalen el
sintetizador y la guitarra al unísono, en su contexto general es una
excelente muestra de lo que puede realizar el grupo. 'Red word', es una de
las mejores piezas de la producción, las guitarras mezclan bellas armonías,
con una excelente técnica tanto de Johnsen como de Linden, por momentos, no
podemos separar la influencia de Camel así como la de Steve Howe, el manejo
de las cuerdas ( violines ) utilizandose como fondo es bello. Wilder luce su
técnica y habilidad en la interpretación del cello. ' Too few feet ', es un
Funky - Rock, con buenas guitarras distorsionadas, la sección rítmica es muy
destacable en sun participación, manifestandose un magnífico contrapunteo
del bajo de Wilder. Por momentos, es posible escuchar algunos fraseos
jazzísticos. 'Long shot ', inicia con sintetizadores silbantes los cuales
mantienen el contexto de la pieza, la guitarra es interpretada en forma por
demás aceptable. 'Charlie ', es la primera interpretación completamente
instrumental del disco. Se fusionan tanto el sonido del sintetizador como el
grupo en su totalidad, destacando el trabajo guitarrístico de Linden. 'At
shore ', es la magnificencia del álbumn. Un track perfectamente elaborado,
con una fuerte influencia Jazz - Blues, destacandose el trabajo de Wilder en
el bajo así como la magnífica interpretación de las vocales por Jacobsen. Es
un recordatorio directo a los excelente grupos de la Costa Oeste de USA,
específicamente Grateful Dead ( álbumn ' Reckoning ', canción 'Birdsong ').
El trabajo del cello le da un impactante sentimiento de sobriedad. 'Peeping
Tom', es una influencia Yes dada por la interpretación de las guitarras,
importantes cambios así como uso de sintetizadores. ' The dogfather has
entered the lift ', es la segunda pieza instrumental, con una influencia de
Bossa - Nova, dando pauta a una fusión con Jazz, con una intervención
magnífica de Olsen en el sax, dando una similitud al sonido de Gato
Barbieri.

Circles End es una buena banda que deja entrever su interés por la
realización de adecuados modos musicales, pulcritud sonora, sin
rebuscamientos, una banda totalmente indicada para los que se inician en los
terrenos del Rock Progresivo.